The Top Shelf Package
Dive into ultimate customization with 'The Top Shelf Package.' Craft your unique identity on the ice with a personalized sublimated hockey jersey and matching socks. Our in-house design and manufacturing ensure a swift, precise realization of your vision. Your game, your style – from concept to creation.
Why You Need the Top Shelf Package
Score big on convenience, style, and savings with 'The Top Shelf Package.' Customize your team's look effortlessly – it's all bundled for you. Enjoy the freedom to create a one-of-a-kind uniform, made in-house for affordability. Elevate your game, own your style, and hit the ice with confidence.
The Top Shelf Package
Sublimated Hockey Jersey
Unleash your team's identity with our world-famous custom hockey jersey. Choose your neck style, add optional side mesh panels, and enjoy an elongated back for enhanced comfort. Opt for an embroidered logo or collaborate with our designers to bring your unique vision to life.
The Top Shelf Package
Sublimated Hockey Socks
Step onto the ice in style with our custom hockey socks, designed to complement your jersey's unique look. Coordinate patterns seamlessly and enjoy the comfort of an elastic heel. Elevate your team's presence from head to toe with a cohesive, customized appearance.
LET'S START BUILDING YOUR CUSTOM APPAREL AND ACCESSORIES. Contact us today!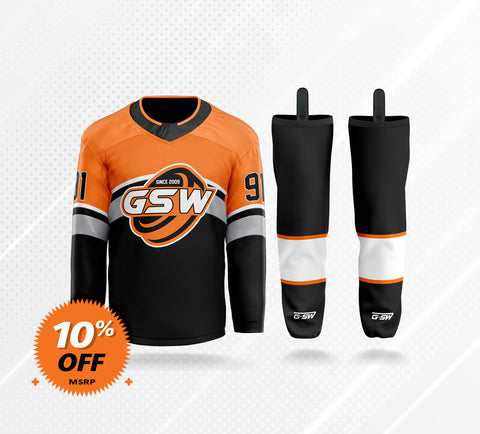 Gitch Sportswear
The Top Shelf Package
Experience the pinnacle of customization with 'The Top Shelf Package.' Our sublimated hockey jersey boasts optional double or single shoulders for added flair, while the matching hockey socks feature a secure velcro strap. Features include:
Unique sublimated design

Variety of neck styles

Optional side mesh panels

Elongated back for comfort

Elastic heel for sock comfort
Create your bespoke look effortlessly, from head to toe.
Additional Info
All pricing is before taxes applied to applicable provinces. 
Logos must be submitted in a vector format. An art fee will apply for non vectored logos. 
A deposit of 50% must be paid to begin production. 
Production will begin one to two business days after a deposit has been made.
Payment balance is due before shipping or pick up is completed.  
Shipping/sorting time is additional to production time. 
Over 50 piece order timelines will be quoted upon order date. 
Once an order has been placed, there are no changes or additions. 
All orders take one month to six weeks to produce.
A minimum of 12 pieces per style.

Jersey (Player): YXS-XXXL
Jersey (Goalie): YXL-XXXL
Socks (S-XL): 19" 23" 27" 31"

Every panel is customizable
Embroidered Names / Numbers at extra cost
V-neck, lace neck or round neck
Cut and sew sock option available

12 pieces per design
4-6 weeks turnaround
Complimentary mock ups/design
Vector images required
Sublimated Hockey Jersey
Sizing Guide
Sublimated Hockey Socks
Sizing Guide